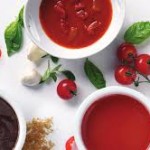 Recent industry announcements indicate some suppliers of margarines, sauces, salsas and other spreads are actively reducing their customer bases, targeting those that are doing less than $500,000 per year. Burley and Kagome are committed to continue partnering with food manufacturers that need smaller volume orders for these ingredients, offering them in both bulk and portion packs.

Burley understands how critical it is to offer smaller minimum runs and custom formulations to companies launching new products or trying to test new formulas for existing products. While minimum order quantities may still apply, they will work with the customer and consider any reasonable request.
Kagome's products include:
- Buttery Sauces, Spreads & Margarines
- Tomato Sauces
- Asian Sauces
- Mexican Sauces and Salsas
- Regional American Sauces, including BBQ and Hot Sauces
- Dessert Sauces
Contact your Burley representative at (952) 943-1970 to learn more about the Kagome product lines.