From America's Farms to the Table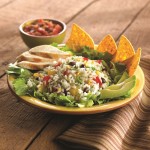 Producers Rice Mill is a full-line supplier of the finest quality rice available. They are a farmers cooperative with over 2,500 farmer members, four rice mills and 12 storage and receiving locations. Producers offers the most efficient distribution channel: direct from the grower to the customer.They ship product worldwide as an industry leader in export, foodservice, retail and industrial rice markets.
With their farmer members growing the safest and most sustainable crop in the world, a lot of care is put into the paddy/rough rice they receive. That care continues as the rice moves through their milling and packaging operations. This attention to detail is why Producers Rice Mill has built a reputation for high quality products and exceptional service.
Producers Rice also supply a variety of rice ingredients. Their wide variety of flours are available in different functionality, viscosity and gelatinization temperatures. These products include:
• Rice Flour
• Pre-Gelatinized Rice Flours
• Specialty Rice Flours Blends
• Extruded Crisp Rice
These flours work great in a wide variety of products from crackers and chips, to soups and sauces. The extruded crisp rice is used in hundreds of different food products. It is a very functional ingredient that provides crunch and bulk, and is often used to replace many high cost ingredients such as nuts and grains. The most common uses of crisp rice include: nutritional bars, baking, prepared foods, ready-to-eat cereal and snack products.
Their products are available in 100 lb and 50 lb bags as well as totes/super sacks. These products include:
• Long Grain Milled Rice
• Medium Grain Milled Rice
• Long Grain Brown Rice
• Long Grain Parboil Milled Rice
• Long Grain Parboil Brown Rice
The long grain milled/white rice consists of rice kernels that have had both the hull and bran layers removed. Most milled rice is enriched, which gives it a nutritional value similar to brown rice.
Brown rice is simply kernels of rice which have had only the hulls removed. Cooked brown rice has a slightly chewy texture and a nut-like flavor. The light brown color is caused by the presence of bran layers which are rich in minerals and vitamins, especially the B-complex group.
Parboiled milled rice is a process where the rough rice goes through a steam-pressure process before milling. This process gelatinizes the starch in the grain, and ensures a firmer, more separate grain. It can be consistently reheated without becoming sticky.
The parboiled brown rice goes through the same process that their milled parboiled rice goes through, with the exception that the bran layer is left on the kernel. Parboiled brown rice is 100% whole grain rice that cooks in only 25 minutes.
If want to learn more about Producers Rice, call Burley Foods at (952) 943-1970 for more information, to request samples or schedule a demonstration.