Del-Val's SavorMARD™ Flavor Keys and Key Blends
domestically produced with proprietary extrusion flavor manufacturing technology
Del-Val Food Ingredients has the expertise, capabilities and ingredients to craft go-to-market solutions that meet any flavor enhancement needs. Their SavorMARD™ line provides reaction/process meat and roast flavors.
SavorMARD™ is one of Del-Val's four taste and technology development platforms. The other platforms in the program include SavorPLUS Specialty Yeast Extracts, SavorMORE™ Custom Flavor Blends, and SavorMAX™ Taste and Mouthfeel Enhancers and Modulators.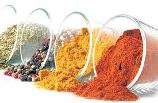 The SavorMARD™ line of natural process meat and roast flavors are blends of SavorMARD™ Keys with ingredients such as yeast extracts and natural flavors. All Keys are meat-free and meet with vegan/vegetarian, non-GMO, organic-compliant, Kosher, and Halal standards. They are also 100% NAFTA-compliant (NAFTA-compliant versions are also available for many of the SavorMARD™ Process Flavors). The Keys are made at Del-Val's New Jersey facility and manufactured using their proprietary extrusion flavor creation technology.
These one-of-a-kind flavor keys and blends have taste profiles ranging from beef and poultry to roast and dark roast that extends their applicability to chocolate, nutty and caramellic profiles. These flavor keys and blends impart the taste typical of:
• Cooked Beef (boiled beef, beef extract, roast beef)
• Chicken (roast chicken, boiled chicken, chicken broth)
• Roast (standard, dark, extra dark and light)
• Other meat/vegan/savory preparations
Del-Val continues to run at full capacity during the COVID-19 pandemic to help their clients meet the strong retail demand for wholesome, healthy and delicious flavors and foods. Their production, warehousing, operations, research, development and customer services are all based in Mount Laurel, NJ and continue to operate at full speed to maintain a timely manufacturing and delivery schedule. They also continue working to ensure that the products they develop, manufacture and bring to market meet with the highest safety and quality standards.