SupHerb Farms
IQF Culinary Herbs, Specialty Vegetables, Blends, Pastes & Purées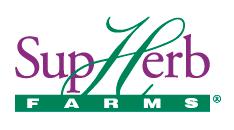 SupHerb Farms understands what matters most to food manufacturers: food safety, transparency and year-round availability – while delivering the very best in fresh flavor and providing consistent, stable pricing and labor savings.
SupHerb Farms globally sources from only well-established food processors that must continuously meet their rigorous qualification programs including third-party audits and frequent on-site inspections by SupHerb Farms personnel. Each lot of every item they receive from an outside source is thoroughly tested by certified laboratories and must pass a number of strict chemical, physical and microbiological tests prior to being accepted by SupHerb Farms. They follow strict processes that begin in their fields, continue during IQF processing and packaging, through offsite warehousing and shipments to customers. Their farms are GLOBALG.A.P. certified – following the FSMA Produce Rules for Food Safety.
• Their facility is SQF Certified, and has a robust Environmental Swabbing Program that  includes Listeria and Salmonella
• Published GMP and HACCP plans
• Comprehensive Employee Training Program that focuses on GMP, HACCP and other FoodSafety items
• Complete sanitation and inspection program prior to line start-up
• Controlled wash tank – sanitizer concentration verified at least 4 times per shift
• Every lot # is tested for Salmonella and Listeria monocytogenes
• Positive release program – all pathogen results are verified prior to release to the market.
In addition, SupHerb's products are made with natural ingredients, contain no artificial additives or preservatives and provide consistent quality and year-round availability. No GMO ingredients or gluten containing ingredients are used.
• Made with natural ingredients
• No GMO ingredients used
• No gluten containing ingredients used
• No artificial preservatives or additives used
• Clean label
Call Burley Foods at (952) 943-1970 for more information, to request samples or schedule a demonstration.