Sioux Honey Association
The Natural & Healthy Choice for Sweetness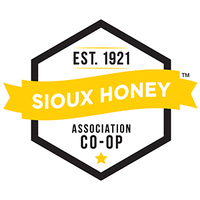 For almost 100 years the Sioux Honey Association has produced honey with no additional ingredients or additives and provided a pure premium honey. Their honey is made by honeybees from the flower nectar they gather and transform and store in honeycombs – there are no other ingredients or additives.
In addition to being natural, Sioux Honey has numerous other health benefits.
Organic
• Sioux Honey Association organic honey comes from bees and beekeepers in Brazil, and every ounce is certified by Quality Assurance International (QAI) to ensure a truly organic product.
High in Antioxidants
• Several antioxidants, including pinocembrin, pinobanksin, chrysin, galagin, ascorbic acid, catalase and selenium, have been found in honey. Darker honeys with higher moisture content have a stronger antioxidant potential.
Non-Allergenic
• Honey is naturally free of allergens. No allergens are stored or used in Sioux Honey Association Co-op facilities.
No Trans Fat
• Honey is naturally free of trans fatty acids.
Gluten Free
• Honey is naturally free of gluten. It contains no wheat, barley, rye nor oats, nor their by-products. No gluten-containing products are stored or used in our Sioux Honey® facilities.
Sodium Free
• Based on USDA Nutritional Facts, one tablespoon contains less than 1 milligram of sodium, a level which the Food and Drug Administration considers "sodium free."
No Fat or Cholesterol?
• Honey is composed primarily of carbohydrates.
Call Burley Foods at (952) 943-1970 to find out about all of Sue Bee's capabilities, to request samples or schedule a demonstration.