Meduri Farms
Producing the Highest Quality Dried Fruit Ingredients for the Global Marketplace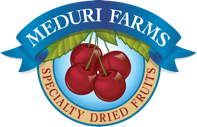 Based in the Willamette Valley of Oregon, Meduri Farms offers premium dried fruit products to top food producers around the world. Their dried infused & unsweetened fruits are all natural and do not contain added Sulfur Dioxide (So2), artificial flavorings, artificial colorings, and/or chemical preservatives.
Product quality is supported by Meduri's vertical integration. This includes owning & operating approximately 300 acres of fields and orchards, an IQF processing plant, infusion & drying facilities, and a packaging facility.
Meduri's commitment to innovation is demonstrated by their food scientist not only developing new products but enhancing existing products as well.
Products include:
• APPLES
• APRICOTS
• BLUEBERRIES
• CHERRIES (SOUR)
• CHERRIES (SWEET)
• CRANBERRIES
• DATES, FIGS, RAISINS
• PEACHES
• PEARS
• RASPBERRIES
• STRAWBERRIES
• TROPICAL FRUITS
Meduri's fruits are available in a variety of sizes & shapes
• Granules (1/16″ to 1/8")
• Crumbles (1/8" to ¼")
• Dices (¼ to 3/8")
• Whole or wedges
Meduri products are
• Kosher
• Gluten Free
• Non-GMO
• No artificial colors
• No artificial flavors
• No Sulfur Dioxide
• No Potassium Sorbate