Sioux Honey Association
They didn't become natural – they always were!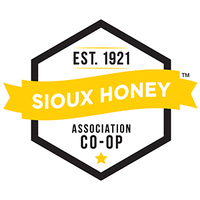 As more companies go back to being natural, Sioux Honey Association can say they never left. Since 1921 Sioux Honey Association has remained constant, with no additional ingredients or additives and providing you a pure premium honey. A natural honey produced by bees transforming flower nectar gathered and stored by bees in honeycombs.
Sioux Honey also has QAI-certified organic honey available. The honey is sourced from Brazil which produces some of the highest-quality honey in the world. This is in large part due to its massive floral source, which contains flowers of various colors and flavors. Plus, Brazil has large tracts of land without modern agriculture and other disqualifying land uses, making it certifiable in the organic arena.
Almost 100 years ago Sioux Honey Association started with 5 beekeepers in Sioux City, Iowa, and now the CO-OP has grown to over 250 beekeepers throughout North America. Honey is the livelihood of the CO-OP members and they can't afford to put their product at risk.
Every lot of honey that enters Sioux Honey Association is tested by one of the leading 3rd party quality assurance companies in the food industry. Competitors may not go to these lengths because of the expense, but Sioux Honey Association feels a responsibility – to consumers, food manufacturers and their own beekeepers – to monitor the integrity of every drop of honey.
This explosive increase in demand means honey suppliers – including Sioux Honey Association – must rely on international honey producers for product. While Sioux Honey Association uses honey produced outside of the CO-OP for bulk honey sales, this honey is still subject to the same rigorous testing as product produced by the CO-OP's members.
Call Burley Foods at (952) 943-1970 to find out about all of Sue Bee's capabilities, to request samples or schedule a demonstration.