Bascom Maple Farms, Inc.
Providing maple products with sustainable agriculture for over 100 years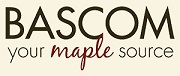 Bascom Maple Farms, Inc. produces and sells both organic and conventional maple syrup and – combined – are the largest supplier of maple sugar in the U.S. They also export to over 40 countries, serving as a reliable source to food companies with global manufacturing operations. While they continue to realize strong demand for their products in Europe, Japan, and South America, the Middle East is emerging as a growth market for maple products.
There is increasing demand for maple sugar because people like the flavor profile and it's seen as a healthier choice than the refined cane sugar. Some Doctors are recommending maple sugar as an alternative to cane sugar for that very reason.
Bascom Maple Farms, Inc. is the parent company of both Bascom Family Farms and Coombs Family Farms.   Both Coombs (VT) & Bascom (NH) are 7th generation producers of maple products, and almost 20 years ago Coombs was growing and buying a lot from Bascom – so they decided to merge. While demand is increasing, they feel it is important to remain a small company of farmers with the growers' philosophy that has sustained the company and its customers for seven generations. They know the importance of hard work, dedication to the quality of the product, and customer service.
Bascom is one of the few companies remaining in the maple industry that is both a producer and a packager of maple syrup and maple products. In addition to farming their own land, they also source maple from over two thousand small independent family farms that share a commitment to quality, environmental stewardship, and sustainable forestry management. While many companies see a sustainable approach to agriculture as a new trend, Bascom has been acting as responsible stewards of the forest, long before anyone had a specific name for it. Bascom is proud that their business helps to preserve crucial habitat for thousands of distinct plants and animals that need large intact tracts of forest to survive.
Burley Foods provides the following ingredients from Bascom in case pack or drum:
• Maple Syrup
• Maple Sugar
• Maple Granules
Call Burley Foods at (952) 943-1970 for more information, to request samples or schedule a demonstration.