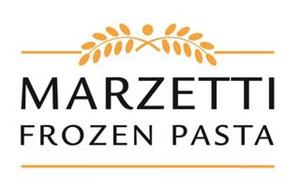 Marzetti Frozen Pasta®
Superior service and value through innovation and differentiation
Marzetti Frozen Pasta's precooked frozen pasta is one of Burley Foods' core products. Offering a variety of both standard and custom pastas, Marzetti Frozen Pasta provides innovative solutions to meet the special needs of customers.
Their pasta selections include short (penne, rotini, elbow, etc.), long (fettuccine, linguini, spaghetti, etc.), lasagna (sheets & strips), cheese filled (ravioli, tortellini, manicotti, roll-ups, stackers, triple stack, etc.), egg noodles, and even dumplings.
Precooked frozen pastas offer greater convenience and quicker preparation time than uncooked pastas – from frozen to cooked in 30 seconds. This results in little or no wasted product and saves time and labor costs. Precooked frozen pastas also provide consistent quality, al dente results every time. The pastas are cooked to moisture levels so they don't leave Marzetti Frozen Pasta unless they're in spec.
Food manufacturers consistently value Marzetti Frozen Pasta's ability to provide custom solutions. They can change ingredient formulations to meet specific needs. This includes adjusting moisture levels, adding specific herbs, or adjusting the size of the pasta to make it either bigger or smaller.
Marzetti Frozen Pasta and Burley recently teamed-up to provide a custom solution for a customer wanting a "cleaner label" option for their products. Marzetti Frozen Pasta and Burley provided an unenriched pasta alternative for all of the customers' current pasta recipes. Unenriched is a less expensive alternative to organic certified products while allowing the customer to provide a cleaner option than standard pastas.
Marzetti Frozen Pasta, Inc. was formed in 2003 when T. Marzetti Company of Lancaster Colony Corporation combined Warren Frozen Foods, Inc. with Reames Foods Inc. Reames Foods originated the frozen noodle in 1952 and the Reames line soon expanded to include many different pasta and dumpling products. Reames Foods joined T. Marzetti Company in 1989.
Warren began making frozen noodles in 1967. By 2003, Warren Frozen Foods had expanded to a six-line 80,000 square-foot production facility with 150 employees that produced all manner of frozen pasta products sold in every segment of the food service market. In December 2003, Warren Frozen Foods joined T. Marzetti Company of Lancaster Colony Corporation. With the two former competitors – Reames Foods and Warren Frozen Foods – now on the same team, Marzetti Frozen Pasta Inc. was born.
Marzetti Frozen Pasta's commitment to quality is demonstrated by the importance of providing safe, healthy food to their customers. Their focus is on preventing contamination – not responding to it. They are in full compliance with The Food Safety Modernization Act of 2010 (FSMA), reviewing all food safety and quality systems on an annual basis and auditing all of their manufacturing locations. Calibrated internal audits ensure consistency and provide in depth analysis of the food safety systems including HACCP, preventative controls, traceability and root cause analysis. Their facilities have traceability systems in place to identify and connect specific raw materials to finished products, which allows for quick action when issues are identified.
Call Burley Foods at (952) 943-1970 for more information, to request samples or schedule a demonstration