"Co-Developed" Custom Sauce Concentrates, Purees, Sauces, and Dry Seasonings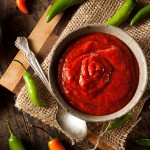 Food Basics is the custom food ingredient division of Yost Foods. Their "co-development" approach allows customers to achieve the lowest cost solution. Popular custom ingredient categories are:
• Bases and Concentrates
• Purees
• Dry Seasonings
• Finished Sauces
• Snack Seasonings
Some of the specific approaches they take to cater to customer requirements include:
• Batch blending in both dry and wet formulations to speed up customers production time and save money on labor.
• Offering great solutions for line extensions by slightly altering a customer's current formula, often with little R&D needed from the customer.
• Providing a variety of options in the plant-based category. Examples include Tempeh and Tofu marinades and sauces.
The Yost Foods/Food Basics culture is based on the premise that quality is the responsibility of everyone in the organization from its leadership, management and purchasing to production, shipping, and customer service. In addition, Yost Foods is committed to continuous improvements in their processes and facility. Some recent improvements involved:
• An environmental monitoring program that exceeds industry standards in both the level and frequency of monitoring
• Investments in additional staff training, personnel, and supervision for our sanitation procedures
• Additional production rooms with improved CIP (Clean-In-Place) systems
• Creating individual sanitation rooms off of production lines
• Automated filling and packaging providing better accuracy and safety
• Improved dust collection to eliminate dust spreading and biofilm hazards
• Hot fill and pasteurization capabilities
If want to learn more about Food Basics, call Burley Foods at (952) 943-1970 for additional information, to request samples or schedule a demonstration.