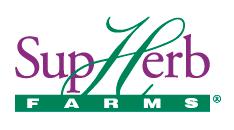 The freshest IQF culinary herbs, specialty vegetables, blends, pastes & purées
For over 25 years, SupHerb Farms' fresh frozen (IQF) culinary herbs, specialty vegetables, blends, pastes & purées have provided fresh-from-the-garden flavor, innovative product formats and on-trend flavor solutions for food manufacturers. This is possible because of the quality of their ingredients, collaboration among their team members and combining the technical expertise of their Culinary/R&D teams with international cooking traditions.
SupHerb understands that what matters most to manufacturers is food safety, transparency, and year-round availability. They achieve those goals while delivering the very best flavors – that only come straight from the garden – and providing consistent and stable pricing.
Their products are available in a variety of packaging options that fit your needs:
• 1 oz. – 8 oz. pouches
• 15 lb. – 45 lb. bag in box
• 28 lb. – 35 lb. tubs
And custom packaging options are available.
Safety Certifications
SupHerb takes many steps to ensure food safety.
Their farms are PrimusGFS Certified – Global Food Safety Initiative (GFSI) benchmarked and fully recognized audit Certification Program covering both Good Agricultural Practices (GAP) and Good Manufacturing Practices (GMP) scopes, as well as Food Safety Management Systems (FSMS)
Their facility is SQF Certified for Food Safety Code for Manufacturing; has a robust Environmental Swabbing program that includes Listeria and Salmonella; and has complete sanitation and inspection program prior to line start-up.
They practice a positive release program – all pathogen results are verified prior to release to the market
Responsible Sourcing
SupHerb Farms only sources from well-established global suppliers that must continuously pass a rigorous qualification program. Each lot of every item received from an outside source is thoroughly tested by certified laboratories and must pass a number of strict chemical, physical and microbiological tests prior to being accepted by SupHerb Farms.
Their supply chain goals are to identify and work with partners who share their passion for people, quality, and environmental stewardship. They invest in long-term relationships with their suppliers to ensure the highest level of quality at all points of the supply chain and a positive impact on all communities involved regarding human and workers' rights.
To promote compliance their approach includes:
• Supply Partner Code of Conduct
• Supplier Self-Assessments
• Third-party Audits
• Frequent on-site inspections by SupHerb Farms
• Ingredient testing by certified laboratories
If you want to learn more about SupHerb Farms, call Burley Foods at (952) 943-1970 for additional information, to request samples or schedule a demonstration.