Premium stocks, broths, soup bases, sauces, gravies and seasonings.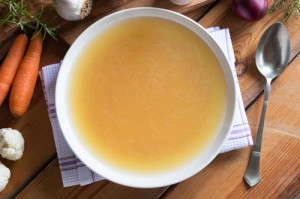 Karlsburger is a savory ingredient specialist offering premium soup bases, sauces, gravies and seasonings. Their rich foundational flavors create custom products that deliver flavorful, high-quality foods.
Innovation
Karlsburger was one of the first to introduce an MSG-free soup base, followed by a full pantry line of products with no HVP, MSG or I+G. Today they continue to strive for cleaner label products by using natural ingredients instead of additives to achieve flavor.
Karlsburger also has a wide range of gluten-free, reduced sodium, organic and non-GMO products to keep you on trend. And they've mastered the art of offering this while still hitting targets for taste, texture and mouth feel.
Culinary Support
Karlsburger's innovation process ranges from formulation to the finished product, helping create proprietary and signature products that are both on trend and right for your brand.
Their sales team is made up of former chefs who bring years of product and menu development experience to serve your exact needs.
Services include:
• Robust product development via in-house test kitchens
• Product matching capabilities to find cleaner-label options or more affordable formulas
• Sensory analysis services to ensure your product's properties connect with your target audience
Custom offerings include bases, stocks, broths, gravies, sauces, spices, and seasoning blends. After finalizing your formula, they quickly scale it up to ensure it delivers the right attributes at your desired volume level.
Karlsburger believes the idea of "custom solutions" applies to quantities as well as recipes. They regularly provide small quantities for customers seeking smaller runs for test marketing purposes.
Food Safety
Karlsburger's production facility is certified Safe Quality Food (SQF) Level-2. Other notable certifications they've earned include:


All products are shelf stable and tested for foodborne illnesses such as e. coli, listeria, salmonella, pathogens and more, before being shipped to operators. All products with allergens are well marked on the recipes and within the warehouse. All Karlsburger employees attend regular allergen training sessions and learn about related trends through updates and news releases.
Packaging
Karlsburger's packaging options support manufacturing efficiencies and can be provided in containers as large 2,000 lb. totes.
If you want to learn more about Karlsburger, call Burley Foods at (952) 943-1970 for additional information, to request samples or schedule a demonstration.