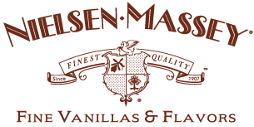 PURE VANILLA & FLAVORS
Unparalleled Excellence, Batch After Batch, Time After Time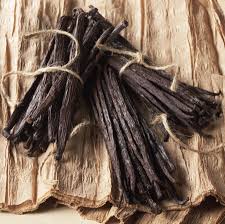 For over a century Nielsen-Massey has produced the world's finest vanillas, supporting food manufacturers with standard products and blends customized for specific applications. The company has multiple certifications, including Fair Trade, Organic, Gluten-Free & Kosher to name a few. They are committed to sustainable practices, and – beginning in 2018 – highlight their efforts in an annual Sustainability and Corporate Responsibility Report.
The Process
In Nielsen-Massey's exclusive cold extraction process, a solution of water and alcohol extracts the delicate flavor components from the vanilla beans until the desired strength is reached. In Nielsen-Massey's exclusive cold extraction process, a solution of water and alcohol extracts the delicate flavor components from the vanilla beans until the desired strength is reached.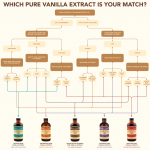 (Click the image to the left to find out which Nielsen-Massey pure vanilla extract is a match for your application.)
This painstaking process may take up to five weeks. The liquid extract is then bottled or blended with other varieties. Single-fold vanilla must, by law, have the extractive matter of 13.35 ounces of vanilla beans to a gallon of liquid. Two-fold vanilla contains the extractives of 26.7 ounces of beans per gallon, three-fold 40.5 ounces and four-fold 53.4 ounces. It is possible to produce greater folds of vanilla, but only through processes that require heat and pressure, which can alter the delicate and distinctive flavor components from the vanilla beans.
Custom Blending
Relying on Nielsen-Massey's years of vanilla experience combined with knowledgeable in-house blending specialists, companies worldwide are able to utilize this expertise and create custom vanilla products that meet their specific needs. Nielsen-Massey is not only committed to providing the best customer service available in the industry, but also creating the best product solution for their customers.
Services include:
- Blending of vanillas from different regions
- Fractional folds
- Fold-strengths greater than 4x
- In-plant assistance
- Pilot-plant testing
Certifications
As part of their commitment to meeting the highest quality and standards for pure vanillas and flavors, Nielsen-Massey sought out and earned the following certifications:
- International Quality Assurance Certified Organic
- USDA Organic
- Certified Organic And GMO-Free Certification (Netherlands Facility) By Skal
- USDA Organic
- Gluten-Free By The Gluten Free Certification Organization (GFCO)
- Kosher Pareve By The Chicago Rabbinical Council
- Fairtrade Certified Vanilla Extract And Vanilla Beans By FLOCERT
- SQF 7.2 – Level 3 Certification (US Facility) Safe Quality Food (SQF) Institute
- BRC Certification (Netherlands Facility) BRC Global Standards
- Non-GMO Project Verified
Sustainability
Nielsen-Massey is committed to programs that promote sustainable environmental practices and enable farmers to earn a successful livelihood in countries where poverty is common. As part of this effort, they take a leadership role in improving the overall health of the vanilla industry with an emphasis on improving economic prospects for the farmers and their families who make the industry possible. Requiring suppliers to adhere to best business practices helps them produce the world's highest quality vanilla extracts and flavor products.
Sustainability initiatives include strengthening security for growers, preventing the harvest of immature beans, improving the professionalism of the industry and encouraging the use of proper curing and farming method. Through these efforts Nielsen-Massey is playing an important role in strengthening the supply chain and making vanilla a more sustainable crop.
They require all of their suppliers to sign a Supplier Code of Conduct in which they pledge:
- To comply with local government regulations, including but not limited to laws that govern freedom of association and collective bargaining; discrimination; wages and benefits; work hours and overtime; worker health and safety; environment; and fraudulent practices.
- To not use any form of child, forced, bonded, or compulsory labor.
- To not subject workers to physical, verbal, sexual, or psychological abuse or harassment.
- To not engage in bribery with elected officials.
- To not knowingly participate in the destruction of protected natural areas and/or wildlife habitats.
- To not use our operations to shield any kind of illegal activities, including but not limited to the illegal trade of wildlife, plants, lumber, gemstones or other commodities; human trafficking; and the sale of illegal substances.
Sub-suppliers or contract manufacturers also must adhere to the above rules.
If want to learn more about Nielsen-Massey, call Burley Foods at (952) 943-1970 for more information, to request samples or schedule a demonstration.