Flav-R-Grain® from QualiTech
increase nutritional value while adding stone-ground appearance and a nutty, whole-grain flavor to snack products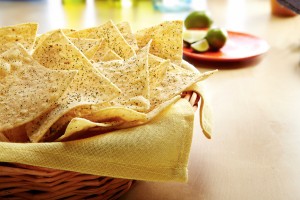 Flav-R-Grain® is 100% natural toasted, stabilized corn germ. It's designed to enhance the appearance and performance of multigrain snack products (see applications below) while providing a pleasant roasted corn/nut flavor and aroma.
It offers nutritional benefits with nearly 20% protein and fiber content. It can be used to reduce fat and serves as a meat extender for vegan markets. Flav-R-Grain® is available both Kosher and Gluten-Free.

One of the practical advantages of Flav-R-Grain® includes longer shelf life vs. the oil oxidation from whole grain corn flour. It has an expected shelf life of 1 year when kept cool and dry. It's packaged in a 50 lb. multi-wall paper bag with poly liner.
When combined with masa flour, Flav-R-Grain® has the convenience and consistency of a masa flour process while producing tortilla products that are representative of a traditional fresh cooked, steeped corn process. Also, without the wet steeping process, effluent charges and wastewater issues are avoided.
Flav-R-Grain® provides striking visual impact – giving a multigrain or whole stone-ground cooked chip appearance – and is available in both dark and light toasts. The dark toast grain identity produces a nutty flavor note, and the light toast grain identity adds a corn flavor note. Combining them results in a natural "variegated" appearance and more balanced flavor.
Applications include:
fresh corn tortillas
tortilla chips
taco shells
extruded snacks
cereals
multigrain snacks
cookies
crackers
breads
batters
breadings
Click here to download full list of QualiTech inclusions and their applications.