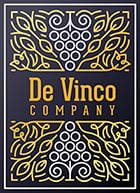 cooking wines exclusively for food manufactures and processors
Cooking wine is used more and more in recipes for Italian, Asian and Latin markets as a way to add wine flavor without the need to add beverage wine. De Vinco prides themselves on product consistency, customer service, and competitive pricing.
As a division of Palmetto Canning Company, De Vinco shares Palmetto's 93 years of food manufacturing experience and food safety precautions. With a team of veterans of the cooking wine industry, they pride themselves on consistency and dependability.
Responsiveness and customer service are main reasons customers are migrating to De Vinco from competitors. With their short lead times, most Burgundy, Sauterne, Marsala and Sherry products can be ready for shipment in 72 hours in three available container types. De Vinco also expanded capacity to serve increasing demand from new clients that are having difficulty finding suppliers.
Cooking wines have an impressive pricing advantage over beverage wines. Cooking wine is not taxed like beverage wine and is priced well below the cost of even the cheapest table wine.
De Vinco provides the following wines (they do not provide cooking wine vinegars or reductions).
ABV*      Description
20.9%*   Burgundy Cooking Wine
20.9%*   Chablis Cooking Wine
20.9%*   Sauterne Cooking Wine
20.9%*   Sherry Cooking Wine
20.9%*   Marsala Cooking Wine
20.9%*   Rice Cooking Wine
20%        Port Cooking Wine
20%        Salted Vodka
19%        Rose Cooking Wine
17%        Sherry Cooking Wine
14%        Marsala Cooking Wine
12%        Chardonnay Cooking Wine
10%        Sauterne Cooking Wine
12%        Rice Cooking Wine
12%        Non-Carbonated Champagne Cooking Wine
12%        Burgundy Cooking Wine
*higher ABV cooking wines may be reduced down to desired concentration with the addition of water.
De Vinco wines are available in a variety of bulk packaging options.
55 Gallon Drum (4 to a pallet)
330 Gallon Tote (HDPE plastic cage tote)
5700 Gallon Capacity Tanker Truck
Concentrates are a valuable alternative because of their cost and flexibility in production. Shipping expenses are lower because the water is removed from the product, and – once received – storage space is reduced because of the smaller packaging. Customers also benefit from the ability to adjust the product to whatever ABV preferred – they have complete control.
Call Burley Foods at (952) 943-1970 for more information, to request samples or schedule a demonstration.