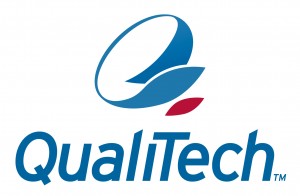 QualiTech started in 1967 as an antibiotic supply company for feed mills.  It is privately owned by the Ploen family and has a little over 100 employees.  The company first expanded into animal nutrition and eventually diversified into food ingredients.  Recently they launched a new plant nutrition division concentrating on agronomy, providing protective trace minerals for agricultural applications. 
The food division started as an offspring of a 1981 acquisition from ConAgra of the Peavey Flour Mills tech center.  The facility had an impressive amount of flavor technology available and QualiTech saw an opportunity to leverage it to use in agricultural feed.  Because of the equipment, processes and recipes that came with the center it was an easy decision to start the food division, entering the flavor particulate market.  
QualiTech has quickly risen to be the second largest supplier of particulates in the market.  The products are primarily used for bakery products which account for approximately 85% of the division's sales.  The products are also increasingly being used in other niche markets, including beverages, confections, and snack foods.  The division is also evolving from concentrating on delivery systems for color and flavor to creating delivery systems that provide inclusions for nutritional benefits. 
The company's growth is not just from capturing market share from competitors, but expanding the market's demand for products through education and R&D.  QualiTech prioritizes intimacy with their clients, allowing them to understand and anticipate what their customers need.  
Burley is a key partner in facilitating this relationship.  They do more than just represent QualiTech.  They serve as an advocate for the clients with QualiTech, providing an important conduit of information between the customers' needs and challenge to QualiTech's management and product development teams.   
Recently Burley shared client feedback that using blueberries in recipes caused color bleeding in the finished products.  QualiTech took on this challenge and was able to provide real blueberries in particulate form that provided the same flavor without the bleeding. 
To find out more about QualiTech, visit their website at www.qualitechco.com.