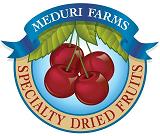 Based in the Willamette Valley of Oregon, Meduri Farms is a vertically integrated supplier serving the dried fruit market with both particulates and products for straight packs.  In addition to growing their own blueberries & tart cherries they have their own IQF (Individually Quick Frozen) plant.  They source as much locally grown fruit as possible – but will import when necessary.  Not only does Meduri serve most domestic food manufacturers, but they also export product to almost 30 different countries. Another area of tremendous growth is with private label products.
The dried fruit category experienced tremendous growth during the end of the 1990s & early 2000s when specialty dried fruit started entering the mainstream.  Ocean Spray introduced the Craisin which served to expand people's interest in dried fruit, and Meduri was perfectly positioned to take advantage of this emerging demand.
Meduri started by catering to the confectionary industry, which was especially interested in sweet cherries & blueberries.  The CPG industry noticed the trend and started incorporating different dried fruits into straight packs on retail shelves in the early 2000s.  Until 2005, 80% of Meduri's business was with "re-baggers" or distributors that put the product into either private labeled bags or incorporated it into trail mixes. 
In 2005, the game changed when Meduri developed a patent-pending technology to break dried fruits into particulates.  Traditional methods of using cutting blades to produce particulates don't work because fruit is too sticky.  This causes the blades to gum-up or produces metal shavings which get into the product. 
Meduri's technicians invented a proprietary solution that breaks up fruit without the use of a blade, resulting in a couple of advantages for food manufacturers. First, was a higher piece count, lowering the "cost in use" associated with many dried fruits.  Second, the visual and textural appeal was maintained while real fruit claims were maintained. These clear benefits allowed Meduri to target snack bar manufacturers, who were looking for better distribution of fruit throughout their products. 
The success in snack bars led food manufacturers to start including dried fruit particulates in clusters and other confectionary items.  Particulates are also used in the baking industry in place of IQF fruit.  Frozen fruit doesn't hold up well or causes heavy bleeding into the rest of the product.  Particulates avoid these problems.
While always offering a competitive cost, Meduri emphasizes their quality.  They incorporate a unique, artisan approach to drying fruit. While they manufacture in high volume, they still process slowly in small batches.  This maintains the flavor and shape, resulting in dried fruit with much higher quality.    This allowed Meduri to take a market leadership position by introducing raspberries, blackberries, peaches, strawberries and pears to the dried fruit market.  These are more fragile fruit that are broken up in a more abusive process. While some of these were already available, they tended to be flat and leathery. 
Meduri's custom infusion process adds sugar or fruit juice (organic sugar or organic fruit juice if included in organic products).  These act as natural preservatives.  They also serve as a humectin that keeps the fruit soft, avoiding the leathery texture, maintaining flavor, and adding weight back into the fruit.
Meduri is currently receiving a lot of inquiries about "super fruits" like pomegranates and acai berries.  The biggest challenges are the availability of the fruit and, in some cases, large pits which make processing difficult.  Meduri's approach is to take the juice from these fruits as an infusion for others, allowing manufacturers to highlight the fruit as an ingredient in their product.
Meduri feels Burley is instrumental to their success in serving the upper Midwest market because they know Burley is a trusted resource.  The credit goes to Burley's great relationships with customers produced by their tremendous knowledge and experience in the industry.  Having a chef on staff and thoroughly grasping the technical side of the dried fruit industry allows Burley to bridge the value between the customer and Meduri's solutions.  Find out more about Meduri Farms at www.medurifarms.com.