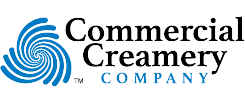 a leading manufacturer of cheese powder, specialty dairy powders, and seasonings
Burley Foods is excited to announce the addition of Commercial Creamery to their list of over 30 suppliers. Commercial Creamery is a leading manufacturer of cheese powder, specialty dairy powders, and seasonings. Their production facility is in Jerome, Idaho. They serve thousands of clients in the United States and globally, currently exporting products to more than 30 countries.
Applications include:
• Snack Foods
• Soups and Sauces
• Dressings and Dips
• Pet Foods
• Beverages
• Baking
• Nutraceuticals
• Entrees
• Flavor Applications
Commercial Creamery views their customers as partners from concept to finished product. And their business is built on an ability to react quickly to customer needs while keeping quality and safety as the highest priorities.
Their technical product development expertise is used to keep customers on the forefront of food product innovation. This includes:
• Culinary Arts
• Dairy and Flavor Chemistry
• Sensory Evaluation
• Nutrition
• Food Safety and Quality
Customers depend on the consistency of flavor and appearance from Commercial Creamery's extensive product line. Every product they make is analyzed organoleptically, physically, chemically, and microbiologically according to internally defined, scientifically validated Quality Control and Quality Assurance programs.
Product options are validated with the following necessary documentation, certification, and testing.
• Conventional
• Natural
• Kosher
• Organic
• Halal
• Gluten Free
• Non-GMO Project Verifiable
Commercial Creamery's Quality, Product Development, and Production teams collaborate to keep products safe and consistent. Their regulatory team stays current on relevant changes in legislation and food safety issues. Commercial Creamery is SQF-certified and FSMA compliant. They also utilize HACCP based risk assessment designed to protect their customers against the risk of food safety related incidents within the supply chain.
If you want to learn more about Commercial Creamery, call Burley Foods at (952) 943-1970 for additional information, to request samples or schedule a demonstration.