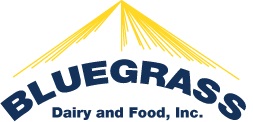 Bluegrass Dairy & Food
Innovation, Integrated Manufacturing, and a Steady Supply of Powdered and Blended Dairy Ingredients
Bluegrass Dairy and Food (BDF) is a totally integrated manufacturer of powdered food ingredients, specializing in dairy based and juice products.
Their products include:
• Cheese Powders
• Cream Powder
• Butter Powders
• Creamers & Shortening Powder
• Nonfat and Whole Dry Milk Powders
• Buttermilk Powders
• Yogurt Powders
• Juice Powders
• Whipped topping
• Cloud Agents
One key to their integrated approach is they have one of the highest-volume biggest milk balancing plants in the country. In the U.S. there is more milk produced than needed every day and this milk needs to find a home. BDF's balancing plants give them the ability to take in this excess milk. This helps the milk producer co-ops so, in return, they supply BDF with all the milk they need. This arrangement means Bluegrass customers can count on a steady supply of products.
Another benefit of the balancing plant is that BDF controls the manufacturing process from start to finish. This assures quality control, and provides more ability to customize products to a customer's unique requirements.
BDF has a track record of anticipating and producing to trends. For instance, the FDA has ruled that by June 18, 2018, manufacturers must ensure that their products no longer contain partially hydrogenated oils. BDF proactively monitored this situation and was in compliance in 2016.
Another example of BDF's innovation was when they saw demand for lower sodium products growing and began R&D efforts. They worked with a company that received FDA approval for a lower-sodium potassium salt in a liquid form. BDF was able to spray dry the product into a powder version. This meant they were able to incorporate the potassium salt powder into a cheese product that had 33% less sodium and a butter powder that had 50% less sodium. Another advantage of the product is the health benefits offered by potassium.
Bluegrass has many certifications which include Kosher & Halal.
They are also certified Organic. Bluegrass produces a steady supply of a wide variety of organic dairy products. Just like their regular product line, these organic products have the same consistency and quality, are competitively priced and are readily available. These products include:
• Cheese
• Creams
• Butter
• Yogurts (regular & Greek)
• Buttermilk
• Milk & Juice
Call Burley Foods at (952) 943-1970 for more information, to request samples or schedule a demonstration